Worship and Bible Study Information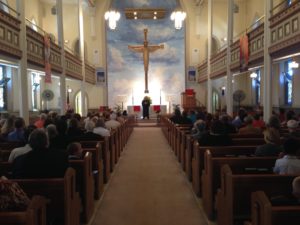 Worship Services
Sunday Services are held at 9:30am.
Midweek Services are held during Advent and Lent on Wednesday evenings at 7pm
Sunday School
St. Andrew Lutheran Church offers Sunday School for children 3 years old through 8th Grade.  Our Sunday School meets every Sunday from September through May.  We offer Bible Stories, games, crafts and snacks.  There is no need to register, simply come and join the learning and fun.  You do not have to be a member of St. Andrew to attend our Sunday School.  Everyone is welcome.
For more information please call 773-376-5370 or contact the pastor.
Sunday Adult Bible Class
We meet every Sunday after our 9:30 AM church service in the St. Andrew Lutheran Ministry Center.  Coffee, juice and goodies are provided.  You do not need to be a member of St. Andrew to attend. Everyone is welcome!
Weekday Bible Study (Fridays at 10AM)
All are welcome to join us for our Friday Bible Study. We meet from 10:00 – 11:00 AM on Friday mornings at the St. Andrew Ministry Center next to the Church.  Coffee and refreshments are provided.  All our welcome whether you are a member of St. Andrew of just someone interested in Studying the Word of our Lord.