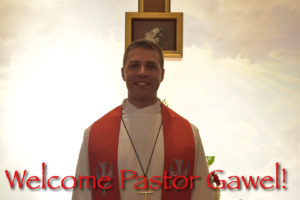 Adam Samuel Gawel was born in Norfolk, Virginia, and soon thereafter was baptized at the WELS church in Virginia Beach. After moving around in the Midwest, Adam's family settled in Midland, Michigan in 1994 and joined Good Shepherd Lutheran, where he was confirmed two years later. Adam graduated from Michigan Lutheran Seminary (Saginaw) in 2000. It was during these high school years at MLS that Adam's worldview was shaped by his parents, pastors, professors, and tutors, leading him to train for public ministry in the WELS. Whenever he is asked why he decided to become a pastor, his response always takes him back to the faithful and persistent law/gospel ministry of those influential people in his life.
Adam continued his studies for the pastoral ministry at Martin Luther College in New Ulm, Minnesota. After graduating from MLC in 2004, Adam went to East Asia for one year, teaching English and doing evangelism. Adam then resumed his training for the ministry at Wisconsin Lutheran Seminary, graduating in 2009. He also served as a summer-vicar in Hong Kong and East Asia in 2006, as a vicar in Hong Kong and East Asia during the 2007-2008 school year, and as a senior-vicar at St. John, Wauwatosa, during the 2008-2009 school year (his final year at WLS). Upon graduation from WLS, Adam was assigned to serve as missionary in East Asia, where he continued to serve until 2016.
Adam and his wife Sherry (née Shilu) were married in Beijing. Their children David (age 6), Sophia (age 4), and Amelia (age 2) have Chinese middle names inspired by 1 Corinthians 13:13; Yongxin "eternal faith," Yongai "eternal love," and Yongwang "eternal hope."
Adam, Sherry, and the kids are excited to live in McKinley Park and get to know the members of St Andrew and the people in the neighboring community. The Gawels thank you for your support and ask for your continuing prayers as they settle in to life and ministry here.