When are church services held?
Sunday worship is held at 9:30 a.m.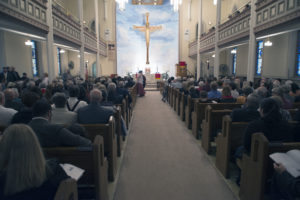 What are worship services like?
Our church services last about one hour. During the services, we confess our sins, read the word of God, and pray. We sing a variety of tunes from traditional hymns to contemporary praise songs.
Will I have to say anything, sign anything, or give anything, or be singled out in any way?
We will not make you wear a visitor badge or stand up so that everyone can see you. Our greeters, ushers and regular worshippers will probably greet you as you enter and leave church. It up to you whether you want to engage in an extended conversation with us. You may decide to visit a few times before starting a conversation. We do not ask visitors to give a dime when we pass the offering plate. We would like you to fill out the friendship register, along with our regular attendees, when it is passed down the aisle.
Is it okay to just watch at first?
We don't want to pressure you to join our church. It is more important that you trust in Jesus for forgiveness and salvation. You should first listen and evaluate whether our church teaches God's word and that you are in agreement with those teachings. Then, when you are ready, we can discuss how you can become a part of our church family.
What do I wear?
Wear whatever is most comfortable. Some of our members wear their "Sunday best" and show up in suits and dresses. Others wear t-shirts and jeans. Most are in-between – a polo and khakis or a sweater and dress slacks.
What do my kids do?
It is a blessing to have your children in worship with us. Your children may go up to the front of the church at this time if they feel comfortable doing so during our Children's Messages. During our Sunday Bible Class (10:45 – 11:45 a.m.), children in kindergarten through 8th grade can attend Sunday School while the adults and teens are in Bible Study.